Introducing our Jury for the TGI & UNICEF Innovation Challenge
TGI Health Accelerator joined hands with UNICEF India to launch an Innovation challenge to identify "disruptive solutions for psycho-social support to health workers", The aim of this challenge is to leverage India's vibrant start up ecosystem to source potential solutions to support healthcare workers that can be accelerated and scaled within health care delivery systems in India and other Low and Middle Income Countries (LMIC's).
We received over 50 extremely promising applications out of which 12 innovations were shortlisted and are going to present their pitches to our jury today for the innovation Challenge
Meet Our Jury
Urvashi Prasad, Director, Development Monitoring & Evaluation Office (DMEO), Niti Aayog, Delhi
Urvashi has extensive experience in health, nutrition, sanitation, gender and public policy. She currently working as a Director in the Development Monitoring and Evaluation Office, NITI Aayog. Urvashi has been a part of the core team supporting the work of Government of India's Empowered Group 1 for managing the Covid-19 Pandemic in the country. She is a member of the task force for overseeing the implementation of Sustainable Development Goals in India and co-authored India's first Voluntary National Review presented at the United Nation's High-Level Political Forum on Sustainable Development in 2017. Urvashi has over 100 publications in leading national and international newspapers, journals and digital platforms to her credit. She is a member of the World Economic Forum's Expert Network and an alumnus of the World Economic Forum's Global Shapers Community.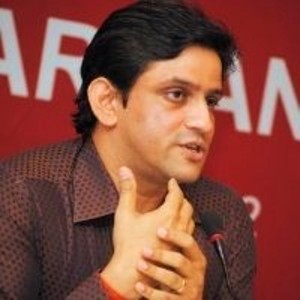 Dr Vivek Virendra Singh, Health Specialist, UNICEF, India Country Office
Vivek Singh, MBBS, MPH is a Public Health Specialist at UNICEF, India Country Office Coordinating Health Systems, Policy, and Program interventions for Child Health at UNICEF India Country Office. He received his MBBS from the Government Medical College Nagpur, and MPH from Emory University in Atlanta, Georgia. He has over 20 years of global public health experience in Public Health Program Planning, Implementation and Evaluation. His expertise covers teaching and training on applied epidemiology, public health surveillance and public health program management; and policy advice to state governments on disease control and maternal & child health program planning; implementation and evaluation.
Dr Vijay Anand Ismavel, Rural Medical Expert and Pediatric Surgeon, Makunda Hospital, Assam
Dr. Vijay Anand Ismavel is a pediatric surgeon and health innovation expert based at Makunda Christian Leprosy & General Hospital in Assam. The hospital is known for its "Makunda Model" which ensures high quality affordable healthcare focused on the poor on a sustainable basis. He is actively engaged in the health innovation ecosystem and serves as a mentor to health Innovation hubs at IIT Chennai and Guwahati.
Shabari Bhattacharyya, Program Manager, Parivathan, Volunteer, Project Step One
Shabari Bhattacharyya is the Program Manager, Counsellor, Trainer and Supervisor at Parivarthan. She trained in Counselling from Old Dominion University in Norfolk, VA and graduate in Economics and Government from Cornell University in Ithaca, NY. She leads the mental health programme of Project Stepone a volunteer network of professionals supporting COVID-19 response across 16 India states and has developed a programme of psychosocial support to COVID affected and for health workers.
Coming Soon: The Awards Ceremony for the UNICEF & the George Institute's 'Innovation Challenge to provide psychosocial support for health workers'
With the final presentations over, we are looking forward to the awards ceremony in the next three weeks. This would be when the UNICEF Innovation Challenge will help to highlight impactful solutions to support the psychosocial needs of our frontline healthcare workers. Stay tuned!